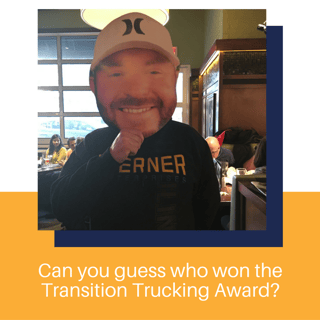 On Friday, December 16, 2016, Troy Davidson, Navy veteran and Truck Driver Institute (TDI) graduate from the school's Milton, Florida campus, was awarded the prestigious Transition Trucking: Driving For Excellence Award. Mr. Davidson was one of three finalists chosen from 40 nominees who competed for the award. Army veteran and Truck Driver Institute graduate from the school's Gulfport, MS campus, Kevin Scott, was also one of the top three competing for the award and won $10,000 for his involvement.
Transition Trucking is the result of a coming together of the U.S. Chamber of Commerce Foundation's Hiring Our Heroes Program (HOH), Kenworth, and FASTPORT. The goal of the organization is two-fold: To create immediate jobs for military veterans transitioning back into civilian life and fill the never-ending need for drivers in the trucking industry. The Transition Trucking: Driving For Excellence Award is given to the nation's top rookie truck driver.
Mr. Davidson was hired immediately after graduation in September, 2015 by one of the trucking industry's titans: Werner Enterprises. "I'm humbled and grateful for everyone that voted, supported, and believed in me," said Troy as he accepted a fully-loaded Kenworth T680, fulfilling one of his goals of becoming an official owner-operator. He also mentioned the sacrifices and contributions truck drivers make bringing everything from groceries and clothes to vehicles and building supplies to Americans all across the country.
When asked about her experience in recruiting Troy and watching him go through TDI's intensive 15-day CDL program Director of Student Services Sherry Hart replied, "Troy is a hard worker and always has been. This man has an inspirational attitude and incredible outlook on life. Troy visits our campus regularly and encourages students by sharing his experiences on the road. All of us at TDI are so proud of both him and Kevin Scott for being two of our best and dedicated students. TDI was founded by an Army veteran and these men are wonderful examples of how our veterans can find a supportive community and continue to serve their country."
If you'd like to learn more about Truck Driver Institute's programs for veterans, please follow this link!